I previously installed a pressure sensor on the intake pipe to the passenger side turbocharger, and today I added a sensor to the driver side downpipe.
Then I wired up the pair of sensors to the Innovate LMA-3 Aux Box to record pressure drop prior to the K03 turbocharger compressor, and exhaust back pressure prior to the catalytic converter.
The exhaust system is the 034 Motorsport 3.5″ single with catalytic converters.  On the intake side I am using a paper filter in the stock airbox with some holes made in the lower half of the box, a stock S4 MAF housing, accordion hose, and y-pipe.  The turbo inlet pipes are TiAL 2.25″ stainless steel.
Testing was done over a full second gear and third gear pull with an additional third gear pull part way through the rpm range.
The results are shown below.  On the top half of the chart is the exhaust back pressure and the lower part of the chart is the pressure drop leading into the turbo.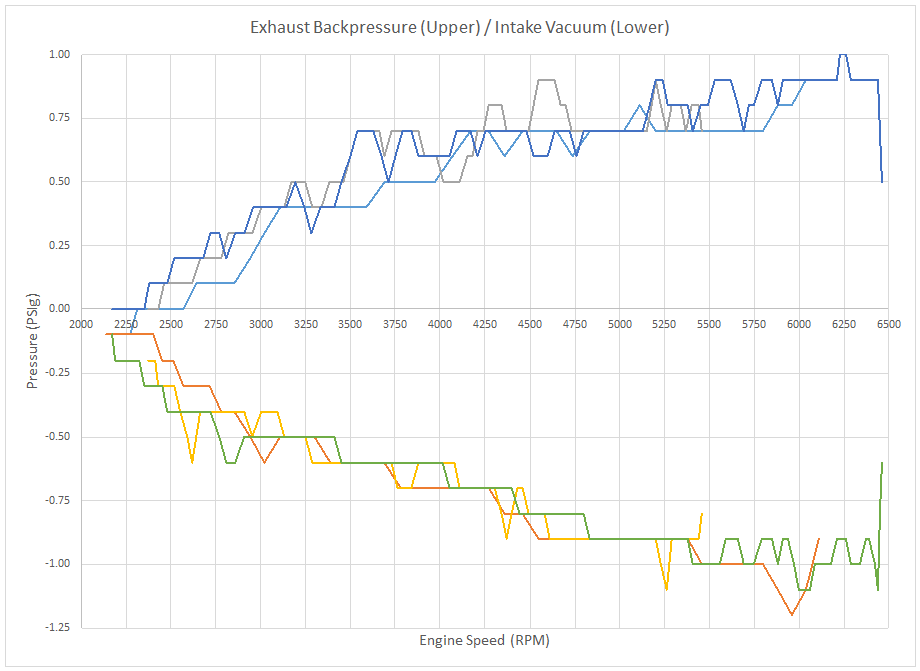 While these results are with the BorgWarner K03 turbochargers, the S4's stock components, I am still pleased at the minimal pressure drop through the exhaust system.
As a follow on test I may install the RS4 airbox top, RS4 MAF housing, RS4 accordion hose, and RS4 y-pipe to see if any different pressure drop results are seen with that different intake system.