I decided to replace my Evolution Racewerks (ER) intercoolers with the Addict Motorsport Design (AMD) intercoolers.  Pictured below are the AMD intercoolers alongside the stock S4 intercoolers.
The dimensions of the AMD intercooler, which I neglected to measure during the initial IC flow test, are:
Core height: 9.75″
Core width: 8.5″, 9-1/8″ with end plates.
Core depth: 3.5″
Number of charge rows: 17
Fin row width: 6mm
Charge row width: 7mm
Number of fins: 102*
* – This is a difficult number to obtain because as the picture shows, there looks like a second set of fins set back in the core slightly that is offset from the frontal fins.  I've not seen this type of fin pattern on previous cores I have tested, unless this is an arrangement that occurs further in the core on other intercoolers and wasn't as clearly visible.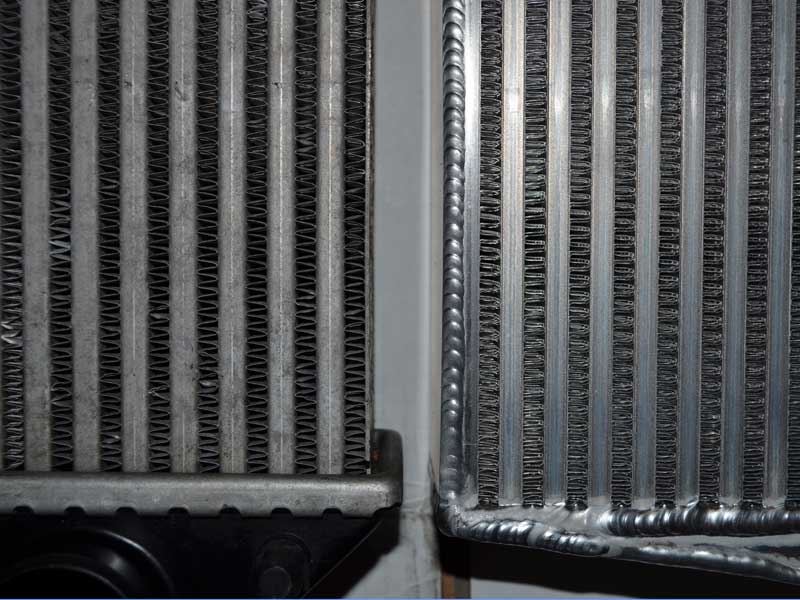 As noted in the above caption, the first test of the AMD intercooler was done with an adapter sized for the more common intercooler outlet pipes which measure 2″ in diameter.  When the Apikol intercoolers became available, also 2.25″ diameter outlets, I was able to use a proper size adapter to test them, but the AMD intercoolers that were loaned for testing were already gone.
Trimming of the car is still underway for the passenger side.