The files related to the development of the Stage 1 and Stage 2 tunes are located at the bottom of this page.
Here are the changes made to KFTARX, an IAT correction modified in order to prevent the ECU from pulling load when the air temps are cooler, and KFMIOP, which is a cap on the torque request. Left is the delta from a stock tune for the values that were changed, and the right are the resultant values being used.
Here's the change I made to KFLDIMX, which alter the Boost PID. On the left is the changed values relative to a stock baseline, and on the right is the resultant table values.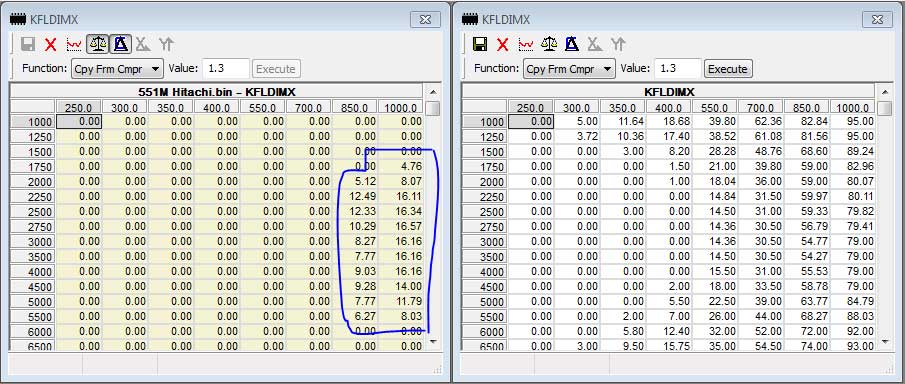 The table below was changed earlier, I forgot to mention it previously, KFMLDMX is raised to give some more headroom with the potential extra airflow now being generated. These are the changes that were made and that are in now place with the development tune:
LDRXN has also been slightly tweaked, increasing the 1850 and 2000 rpm places by the values shown below.
Another change that was made that I previously neglected to mention was an increase in KFLDHBN, the maximum requested pressure ratio, which should be raised since the tune is requesting more boost and therefore has a higher pressure ratio than stock.
Final Stage 2 Settings
The images shown above are from the development phase. The Stage 2 tune has been completed, to ensure no changes that were made following the screen shots above being taken I am showing below the final settings that I used.
This tune initially boosts to around 17-18 psi and then tapers steadily to 10-11 psi by 6500 rpm. The target AFR throughout is 12.5 and the maximum Injector Duty Cycle I recorded was around 90%.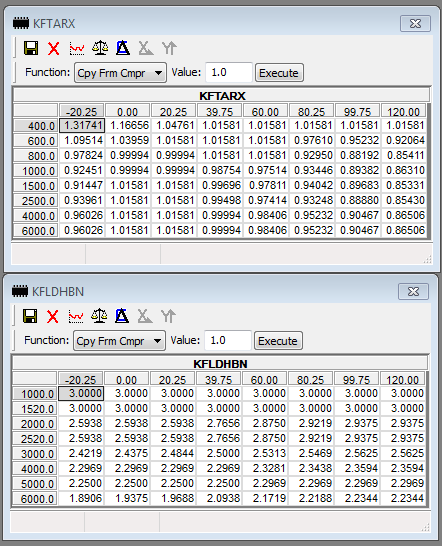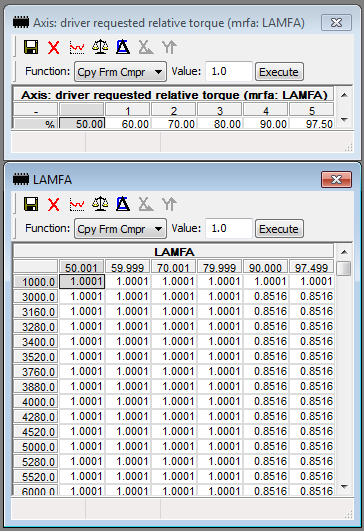 TABGBTS is raised to 750 degC.
For those that wish to compare their changes to those that I have made, here is a link to the binary file for the final version of the Nefmoto Community tune that I have been driving with. This tune is for a car using a Hitachi MAF sensor with the rear O2 sensors coded out. It uses the stock EGT sensors.
---
You might need to Right-Click and Save the XDF files.