It is not often that I spend time and effort making a change to the interior of my S4.  I've thought on more than one occasion about changing out the stock steering wheel for something a bit more sporty looking, but the limited options I had seen were too costly for me to justify purchasing.
On the other hand, the steering wheel is a component that the driver is interacting with constantly and having a nicer wheel would make for a better experience in the car.
I came across the handiwork of Bartosz Szczepaniak, a member of one of the B5 S4 communities on Facebook, and was very impressed by the customizations that he performs on the B5 S4 steering wheel.  In addition to numerous customization options, including the material, colors, emblem, stitching, etc., I found his services to be very reasonably priced.  For $370, including shipping, he would remake a stock S4 steering wheel into a personally customized one.
I contacted Bartosz and we discussed what options I was interested in having.  Soon thereafter he was providing "in-progress" photo's of the steering wheel as he converted it from this:
Into this final product: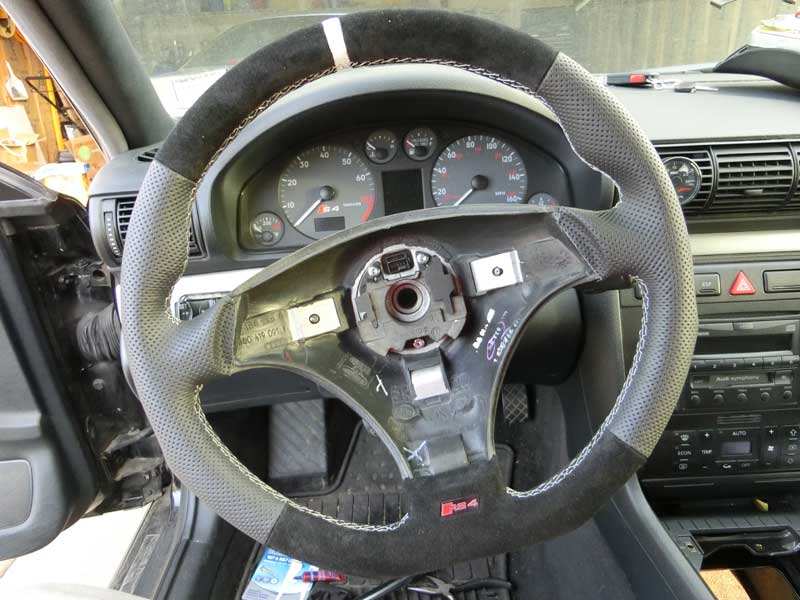 After swapping over the airbag, the final "look".
I'm digging the new look inside the Avant.  It'll be a little while before I get the chance to try out the feel of the new steering wheel, as evidenced by the missing transmission, but for now I can admire this sharp looking steering wheel.
For questions about his work Bartosz can be contacted via email at the following address: AutoPartBS at gmail.com or on the Audi B5 S4 Facebook Group.