To use the chart look for the B5 S4's model year, body style, transmission type, and exterior color.  The number to the right of the color block is the quantity of vehicles produced for the U.S market according to Audi of America with that configuration.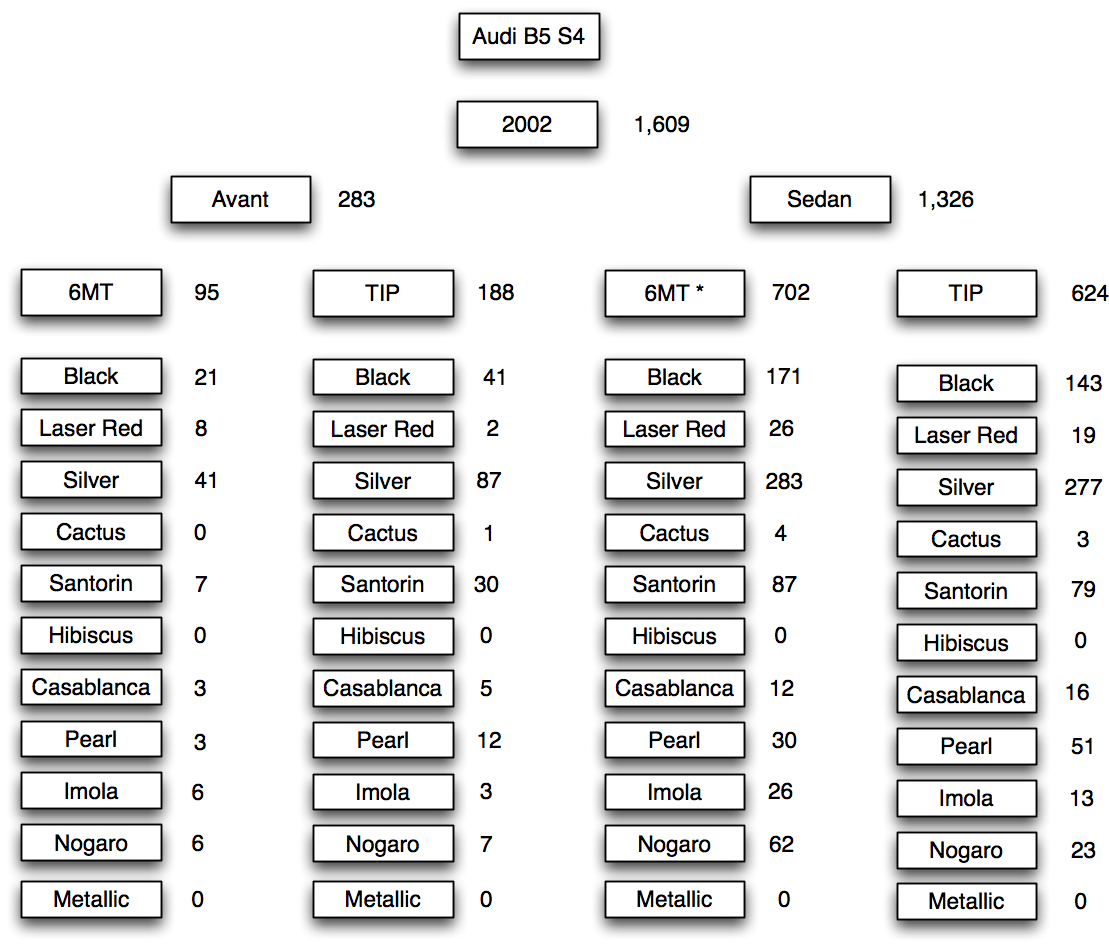 – There was a Custom exterior color ordered for one S4 Sedan in 2002 with 6-speed transmission.  Audi resources do not have information about what the color was.
Note: Audi was unable to provide what I consider reliable data on the Grey exterior colored S4's.  For this reason I have left it off of the color chart summary.
Populating the data in the Audi B5 S4 U.S. Production Numbers table has been a group effort involving a number of people from Audi of America, as well as several owner enthusiasts.
Kara W, an Audi Digital and Social Media advocate has steadily been pepered for a month with questions from myself and other owners. Before her Dominique B another Audi Customer Experience advocate heard from me for two months requesting VIN production numbers.
A large amount of data was obtained by AZ member MyXbfS4 who provided a tag-team in sending requests to Kara W.
.jonah provided a summary of Craigslist ad's containing B5 S4's allowing me to locate cars that had not yet been accounted for.
There were also several owners who contacted Audi to obtain information about their S4's and then relayed the responses to me.
During the process of obtaining the production numbers there were times that the answers from Audi did not align exactly with previously obtained data. By way of multiple requests a clearer picture was formed and I have a high degree of confidence in the results presented above.
Thanks to all who were involved with documenting the U.S. Production Numbers for the Audi B5 S4.