Purpose:
The following is a discussion of the modification I did to the cars ECU chip.
Reason:
More Power.
Considerations:
Choosing a tuner that I felt comfortable with. I thought about their reputation of product design, customer service, price and performance. APR has had a great reputation and one visit to their web site demonstrates that they are a company that is working on new and innovative ideas. Their price was comparable to other tuners and the results of performance tests led me to conclude that there is a negligible measurable difference in the performance of the top tier tuner's chips.
Options Available:
Decision:
APR
Satisfaction:
Adding a chip to the modifications I have done to my car was one of the best improvements I have experienced. Only the addition of my Coilover suspension produced such tangible improvements in performance.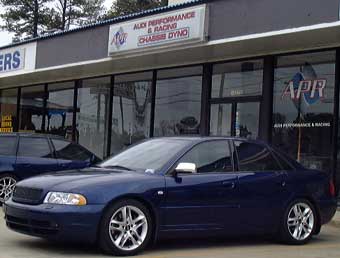 Installing the chip is a very easy process and takes about 10 minutes when you know what you are doing. Adding 50-60hp is a real noticeable change.
Others will argue that you should attend a driving school to improve your skills at handling the car prior to adding so much horsepower. I had attended such a school a couple of year's prior, but I do not support this position. I did not purchase the chip so that I could drive the car at higher speeds or in a more aggressive manner.
I wanted the extra power for those times when accelerating in a hurry was very important. Passing on a two-lane road is one place when the extra power comes in very handy.
I have been very pleased with the performance of the APR chip and the support they have shown for their product.
Long-term report:
In all I used the APR chip for 4 years. I never had any problems with it; my turbos and TBB never failed, though I replaced my DV's as a precautionary measure. It was reliable and provided a substantial boost in power. I was glad to see APR revised the code when it was determined that it was suffering from poor timing in the mid-rpm band. It was very smooth in terms of drivability.
Historical Document:
This link is to a PDF file of an article in the European Car magazine about APR, published in 2000 when tuning of the Audi's was just in its infancy.