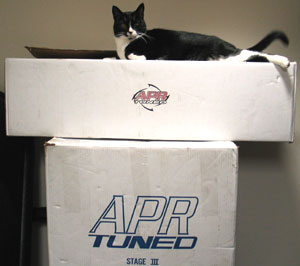 "I need more powah!"
There were other hurdles to overcome along the way. The morning that I was packing my parts up to head to Induktion I decided to do a parts inventory of everything I had down to the last bolt and washer. What I discovered was that there were a few parts missing from the APR kit. I was missing two RS4 injector clips, the turbo-to-downpipe gaskets, and the oil return line gaskets. I immediately contacted Streetwerkes, whom I had purchased the kit from, to see about getting these missing parts sent directly to Induktion. I also packed up my stock ECU and shipped it off to Streetwerkes to have the APR Stage III software installed.
The initial estimate was a week to ten days to get the work completed.
As work began some items arose that needed resolution.
As part of the preventative maintenance I had picked up an ECS timing belt kit and water pump. During this installation it was determined that the serpentine belt tensioner was also going bad, so that was replaced as well.
As the kit began to go on we awaited the parts from Streetwerkes and discovered some other problems with the kit. There was a mistake with the upper intake hoses, I had been sent two of the same side hose, but the car requires individual left and right side hoses. There also needs to be an adapter for connecting the Bosch RS4 MAF to a Hitachi MAF equipped car, there was no adapter. I placed another call to Streetwerkes to get these parts. Fortunately there was other work that could be done as we awaited some of these parts, and the fact that Induktion had a lot of the necessary parts on hand was beneficial to keeping the work moving.
In the process of installing the RS4 clutch it was discovered that the car's flywheel was noisy, indicating it was on the road to failure, and so I contemplated the possibility of installed a lightweight flywheel. After some consideration of my driving style, and what I wanted from the car, I decided to stay with an OEM Audi flywheel. This part failure led to my conflict with Autowarranty Broker regarding my aftermarket service contract. See here for that story.
Another challenge cropped up when the APR bipipe failed to fit properly and left me with three options. Attempt to acquire a replacement bipipe from APR, a task that would be made challenging due to the fact that my bipipe had already been tapped for water injection nozzles. Second, the fan blades could be cut down and the bipipe shaved so there would not be any contact between the two. Or, go with an electric fan in place of the stock clutched fan. The opportunity to acquire a used EFK at a good price was presented, and I decided to go this route.
As the parts were coming together Induktion was having trouble with the car changing gears, notably getting into reverse. A replacement master cylinder and slave cylinder were tried with no resolution to the problem. Finally a broken spring was discovered and the transmission was on its way back in. Once in there was still some question as to how well the clutch was working, but was felt it may be due to needing some breaking in. I was invited to pick up the car, and assess how it drove over a couple weeks, and bring it back if necessary.
Picking the car up from Induktion.
I picked the car up and noticed that the clutch did feel different than usual. I took the car out to drive and after stopping at a store, discovered that I was unable to get it into reverse to back out of my parking spot. After shutting the car off I was able to get into reverse. I started the car up and concluded my test drive after about 100 miles by returning to Induktion. The decision was made to replace the clutch kit with another RS4 clutch kit, since there was little else that hadn't yet been replaced, and the car was driving without any problems before coming in for the RS4 clutch upgrade. By this point I had been without my car for 3 weeks.
It took several days to remove the one clutch kit and replace it with the other, but finally I got the call that the car was back together and running well. I headed to Induktion and retrieved my car, one month after starting the project.
Impressions: Other than the noticeable differences of going from driving a compact SUV for a month, the car felt normal to me. In fact it is almost unnoticeable that so much work had been done to it, except when you get on the gas. Then it was immediately apparent that the car was stronger. The clutch feels remarkably like the stock clutch. Was it worth the cost going from Stage 2+ to Stage 3? After a couple weeks of driving back and forth to work, I could not say. I hadn't yet been in a situation where the power increase from the Stage 3 kit had been necessary for what I was doing.