As I wrote about a few months back, the prototype FrankenTurbo F21 with a mixed flow turbine wheel (referred to as F21MF hereafter) is an update to a product that was already on my candidate list.
When the details of the prototype design started to firm up I became more interested in how this third update to the FrankenTurbo offering for the S4 would measure up to my goals of having a quick spooling turbo with good power potential.
The mixed flow turbine is supposed to have greater efficiency at lower blade speeds, and with slightly less wheel mass the potential for quicker spool up.  I'm interested in seeing how this mixed flow design does with high mass flow rates as I believe the K04 hotside is what is limiting the K04 hybrid turbochargers from delivering better performance.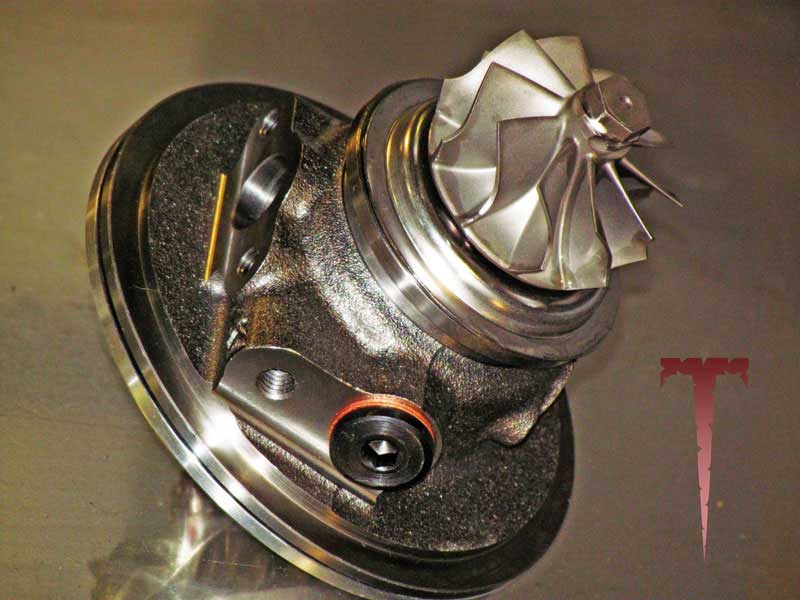 The compressor wheel is also seeing significant changes, even more so than the turbine wheel which was based on the outgoing F21 design.
The new compressor wheel is billet, not in itself all that important, but the design is quite a bit different from other K04 hybrid offerings that I've been able to dig up information on.
The inducer is 45.3 mm, compared to the older F21 size of 42.6 mm, and the exducer is 54.5 mm, versus 56.3 mm for the outgoing model.  The closest comparison product I know of is the JHM RS6-R which I believe uses a 45/56 compressor wheel.  The new compressor wheel also has a slim hub, which theoretically should allow the wheel to grab more air.
With what is apparently an overall larger compressor wheel my concern is how well the product will spool up.  I was not a fan of the boost onset hit that the F21 took relative to its predecessor, the F4H, but if the top end delivers and the boost ramp up does not take too much of a penalty I might keep the F21MF on my contender list.
Some early results I've seen on the F21MF show that it doesn't appear to give up any response compared to the previous product.
The remaining question is still, how will it perform on the top end?
For now the F21MF will stay on my candidate list as it looks to be an excellent option for maximizing the power deliver from a stock motor without giving up (too much) boost response.
The candidate list now stands at:
BorgWarner K04
FrankenTurbo F21-Mixed Flow
ProjectB5 RS6-X
SRM Billet K04
TTE 550
Next: Project: B5 PB550