A few more months have passed and another option has popped up, this one from Project: B5 – a turbocharger called the PB550.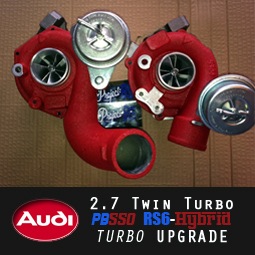 Looking at this offering and comparing it to the Project: B5 RS6-X it is not immediately clear what distinguishes these two products.  I have tried contacting Project: B5 to find out what the differences are but have not had any reply back to my inquiries.  Looking at the two product write-ups it seems that the two differ in the following ways:
PB550 uses a K04 style billet compressor wheel.
RS6-X uses a double stack RS6 style compressor wheel.
The RS6-X has a clipped turbine, the PB550 does not.
At this point I have never seen any data on an RS6-X turbocharger or the PB550.  Based on the specs they are still in the region I consider a candidate system, but the lack of data and lack of communication from Project: B5 make it unlikely I would purchase one of these.
As for now the candidate list is:
BorgWarner K04 (great amount of data)
FrankenTurbo F21/MF (minimal amount of data)
ProjectB5 RS6-X/PB550 (no data)
SRM Billet K04 (no data)
TTE 550 (minimal data)