After some troubleshooting with the folks from Aquamist to figure out how to record the voltage from their sensor on my LM-1 I set out to calibrate the Aquamist flow sensor in conjunction with the BoostManager water-methanol injection system.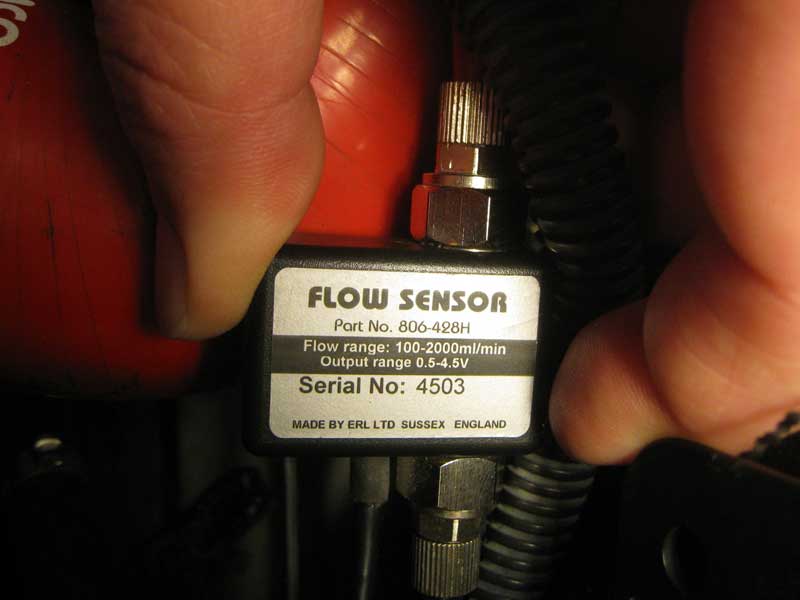 The Aquamist sensor has three output ranges that can be set depending on how much water flow is expected to be generated by the system.  As it turned out my system was right on the edge between the middle setting, good for around 1200 mL/min., and the upper setting that can handle approximately 2500 mL/min.
The decision was whether to get a full range reading, with less resolution, or lose the very top end but have better granularity over the rest of the detection range.
I decided to go with the middle setting that gave better resolution.  I don't know how much affect spraying into the charge air will have on the flow rate, but I expect it to drop the rate some, which should serve to minimize the negative aspect of the range I chose.  Also I know I can simply set a maximum duty cycle for the pump lower than what it is capable of if I want to keep the flow readings within the reporting range of the sensor.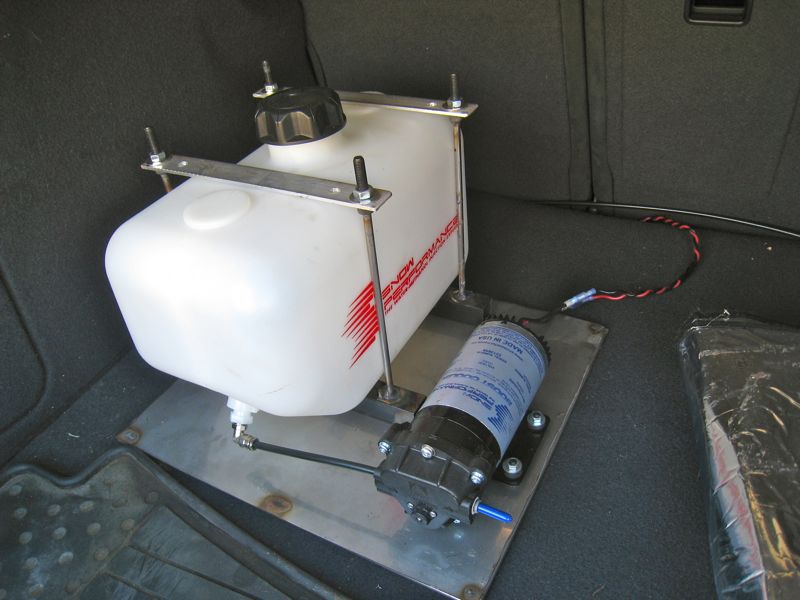 I set up the BoostManager software to test the flow rate.  It has a handy feature that allows the pump to activate with just a 'press of the button' on the software.  The pump duty cycle can also be set from 0 to 100 in this 'test state' in order to check the flow rate at the different duty cycle settings.
Along with the BoostManager software the data display software for the LM-1 was open to allow me to record the output voltage from the Aquamist flow sensor.
To capture the water from the nozzles I removed the nozzles from the APR bipipe, tied them together, and placed them in a measuring container with a piece of aluminum foil over the top to contain water mist or splashes.
Here's a picture of the nozzles directed into the container with the splash cover removed.
With the setup complete I ran the pump at several different duty cycles and recorded the output voltage for each test point.
The pump duty cycle versus flow rate is shown below.
Shown below is the flow sensor output voltage for the various flow rates.
With the sensor calibration table created and the flexibility of the BoostManager software to allow for the pump duty cycle to be varied based upon inputs from the boost pressure sensor and RPM, I will be able to create a tailored w/m injection rate table.
Knowing how much fluid is being injected will help in building a table that is well matched to the amount of fuel that is being injected into the engine.