This flow test was of the Audi B5 S4 stock downpipe and an Autospeed aftermarket downpipe.  The Autospeed downpipe is a 3″ diameter pipe with a 200 cell per inch high flow catalytic converter.
Each pipe was mounted directly to the flow bench and tested up to a depression of 28″ H2O.
The setup:
Here's the Autospeed downpipe mounted to the flow bench.  In order to support the weight of the downpipe the mounting tab that attaches the downpipe to the transmission was used to suspend the part from a hook in the garage ceiling.
The stock downpipe similarly mounted.  Due to the off-center weight of the stock unit it was necessary to pull the upper portion inward with bungee cords to help make the pipe more upright.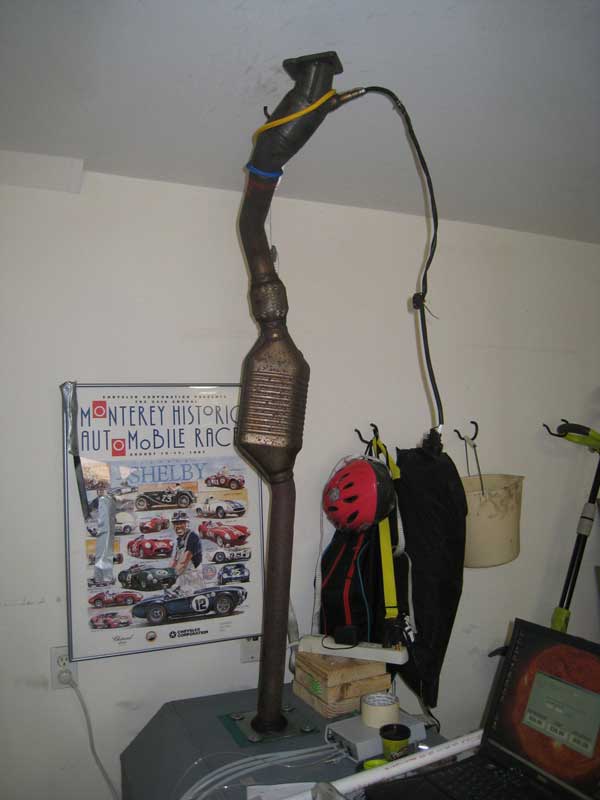 The results

:

Pressure loss with increasing airflow is shown first.
Airflow at 28″ H20 depression.
Conclusions

:

The results show there is some significant difference between a stock set of downpipes and a high flowing aftermarket downpipe.  For this test both sets of downpipes had miles of use on them, allowing for the build up of carbon on the matrix material of the catalytic converter, and the pre-cats in the case of the stock downpipes.  The stock downpipes had 43,000 miles and the Autospeed downpipes approximately 20,000 miles.

Previously I had conducted a flow test on a modified set of stock downpipes and a portion of the Autospeed downpipe.  I feel the test results on this page give more useful information; for archival purposes the following link is to the old downpipe flow test.
Update:
I noticed that on the stock downpipe I had overlooked plugging the secondary O2 sensor bung in the above test.  I retested the stock downpipe with both O2 sensors installed and recorded slightly different results.  These results are shown below: