Reason:
Interested in an exhaust with a sportier tone than the stock system that I felt was too subdued. There is also the potential benefit of a freer flowing exhaust system leading to slightly better performance from the engine. An added bonus was the look imparted to the car by the larger exhaust tips that the new system has.
SOUND SAMPLES
•Take1.mp3
•Take2.mp3
Considerations:
I wanted to install a system that gave the most improvement in the performance area, without having an unduly loud exhaust. Cost was always a consideration though not primary. Quality of build and fit was also a factor to be considered.
Options Available:
There were a number of systems available that I had considered. The following is a list of systems considered and reason I chose to not go with each. All of these opinions were formed after reading the opinions posted on the AudiWorld forum by other Audi owners.
APR – Too loud.
Velocimax – Too loud and reported to not be a good fit.
Borla – Droning sound in cabin while cruising.
MTM – Too expensive.
Decisions:
I decided to go with Supersprint. The Supersprint exhaust was noted to be quiet under normal operation but louder when driven hard. The fitment with the automobile was excellent and the quality of build was high. It also has the best looking tips of any system I had seen, or still have seen. The cost was midrange.

Satisfaction: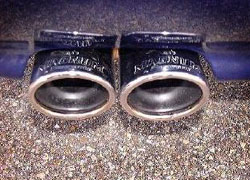 I have been extremely pleased with the Supersprint exhaust. I was able to do the installation by myself in approximately 2 hours. It could have been done in half that time if I had some assistance. I used a lift and I recommend anyone else doing this modification do the same.The fit has been excellent and the quality of the product is high. The sound has been just what I am looking for. With the windows closed and cruising on the highway the exhaust sounds similar to the stock exhaust system. When the car accelerates and at the higher RPMs there is a noticeable change in tone and slight increase in volume.
I'm skeptical of the performance gains claimed by any of the manufacturers of exhaust systems and accordingly I don't feel any difference with this exhaust installed. Even if there were an improvement in performance I doubt it would be significant enough to be noticed on a regular basis.
Conclusion:
I have been very pleased with this exhaust system. I have had it on for about 8 months (as of June 2001) and have had no problems and have never found the sound to be annoying.
Long-term Report: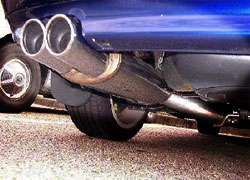 The Supersprint exhaust is great. The fit is still excellent and it is wearing well. It may have changed tone slightly, becoming a touch louder, but I still feel it is very mild and not at all annoying.
LONG-TERM REPORT/MAY 2005 UPDATE:
After upgrading to a Stg3 kit I reconsidered a dual exhaust. To that end I contacted one of the Tuner's who supplies a highly regarded dual exhaust about possible gains I might realize by trading in the Supersprint for a dual. The answer I got was that I would not likely see any significant performance gains, perhaps a couple hp here or there throughout the rpm spectrum, but not worth changing exhausts. So I am sticking with this great exhaust system.