Flow testing results of the Silly Rabbit Motorsport B5 RS4 Side Mount Intercooler (SMIC).
One of the most significant points to be made with these SMIC's is that the inlet and outlet are 2.5″ in diameter.  In comparison, the Silly Rabbit Motorsport S4 SMIC uses a 2″ inlet and 2.25″ outlet.  Even the SRM S4 IC inlet/outlet is larger than many of the S4 SMIC's that have been tested, often using a 2″ inlet and outlet.
These Silly Rabbit Motorsport RS4 SMIC's are the only intercoolers I have flow tested thus far that use a 2.5″ inlet and outlet.
Results: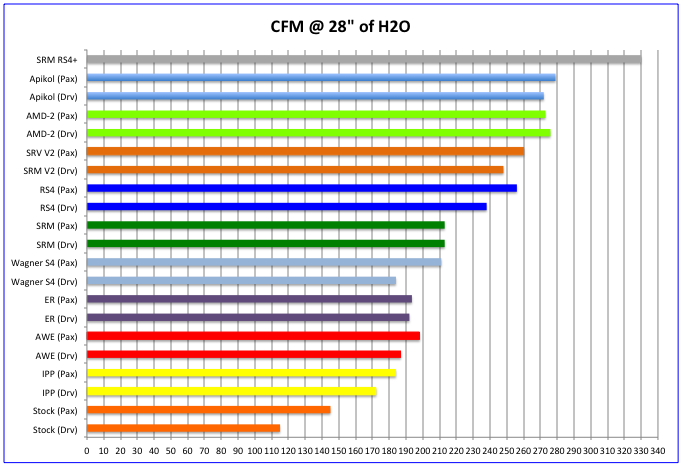 I thought the large inlet and outlet of the SRM RS4 SMIC might help with the airflow but I was not expecting the substantial jump in CFM that was recorded versus the other intercoolers that have been flow tested.
The Silly Rabbit Motorsport RS4 SMIC shows approximately a 20% gain in airflow over the highest flowing side mounts that I had previously tested.