Time to get started in earnest.  I removed the rear portion of the exhaust, the muffler components today.  I think working underneath the car I'm going to have a wrench in one hand and a can of PB Blaster or Liquid Wrench in the other to spray bolts with prior to trying to remove them.  The bolts holding the muffler clamps in place were fun.  I expected these to be difficult to break loose so I started off giving them a blast of liquid wrench and moved on to something else to give the penetrant a little time to work.  With the amount of corrosion that had formed on the bolts I was a little unsure of what the right size socket was to put on the nut.  It was a toss-up between a few sockets so I went into my stockpile of parts and pulled out the old clamp from the Santorin car.  17mm was a solid fit.  That, a breaker bar, and a bit of straining got the bolt started.  Sadly, the parts were so rusted I needed to use the breaker bar to have enough leverage to back the nut all the way off, a quarter turn at a time.
The torx bolts that also hold the driveshaft support came out surprisingly easy, so much so that at first I thought I might have had the wrong sized Torx bit and was stripping the bolt head.
Most of the 13mm bolts at the rear came out pretty easily, except for the one bolt that goes into the differential carrier and is partially blocked by the sway bar.  Of course the one bolt that requires a bit of maneuvering to get to would be the one that was really stuck in good.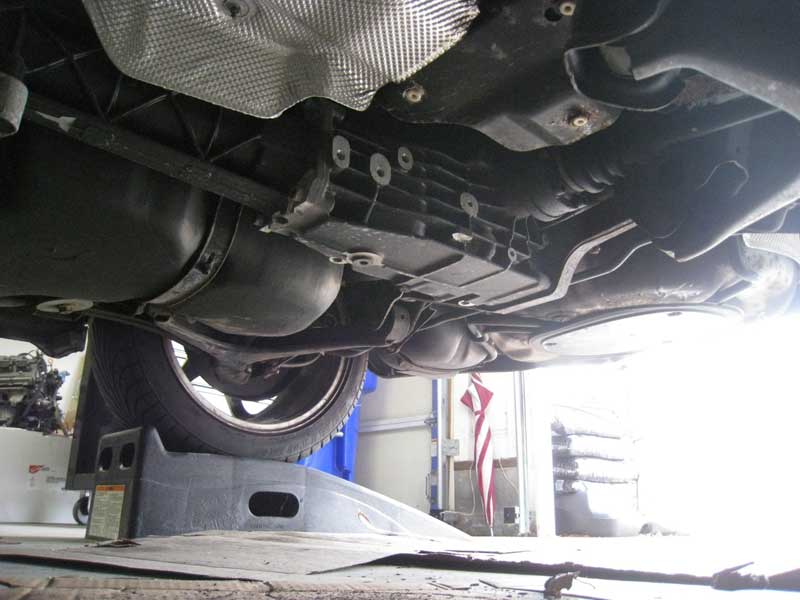 I was going to remove the heat shield that runs along the drive shaft but to my surprise the small 10mm bolts hold it in place were stuck good enough that I decided to give them a blast of liquid wrench.  I took a break at that point.