After failing to get anywhere with finding a transport company to pick up the Silver S4, (some additional background on this AgS4 here) I decided to take it upon myself to go and get the car and bring it back.  The auction site was going to start charging a daily storage fee if the car was not removed from the site so I had some additional incentive to get moving.
I rented a Budget truck along with a trailer and set out to the auction site to get the car.  After providing the dealer number to the staff at the auction site they gave me the title to the car and said they'd bring the car around to me.  I went to prep the trailer and a short while later a payloader came out of the yard and dumped the car in a rather undignified manner beside the trailer.  I was a bit aghast at the car being carried out via a forklift, but given the condition of the majority of the cars at the site it was easy to understand why they would move the cars with that equipment.
The pictures provided by the auction service were not thorough enough to illustrate all of the 'issues' the car had, the first concern was that the front passenger tire was flat, and I had not thought to bring an air pump.  No problem, I can just put the spare on.  The lugs bolts were seized and it took a swift kick to the Audi lug bolt removal tool to break the lug bolts free.  After all the lug bolts were removed to my surprise the wheel wouldn't budget.  I usually have my wheels coming off and going on so frequently that once the bolts are loosened the wheel practically falls off, not this one.  A few swift kicks to the tire failed to cause it to budge.  After some more kicks it was becoming clearer that the wheel was not going to be coming off.  The tire was in pretty rough shape as it was, in fact the rear passenger tire had a bubble on the side wall, so I decided that I'd drive it as it was up onto the trailer seeing as how it was only going forward about a car length and a half.
The auction site had said the car started with a jump.  At the first jump attempt the motor barely turned over.  Luckily I'd thought to bring a winch for just such an occurrence, but I sure didn't want to pull the car up onto the trailer if I didn't need to.  I gave it another try and the motor weakly turned over, but to my joy the engine caught and it began to run.  Up onto the trailer it went.
With the car in place I set off to bring it home.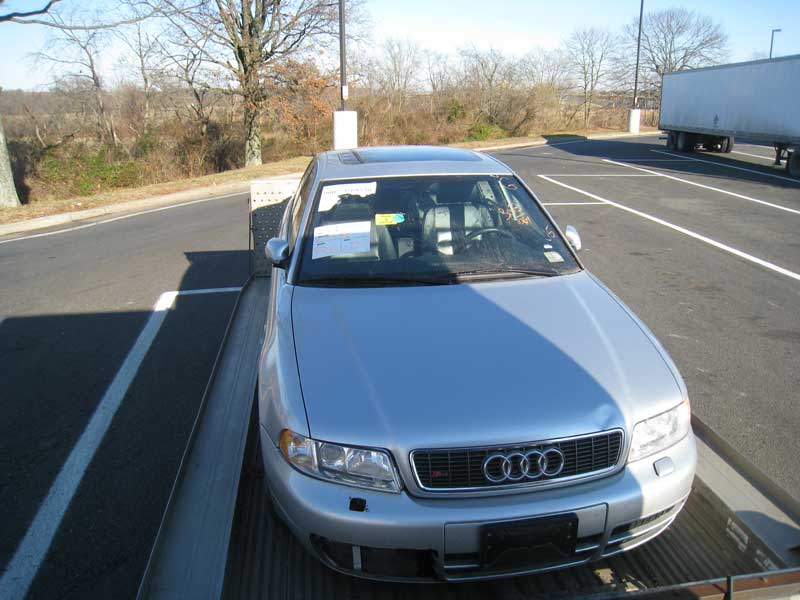 About eleven hours later I had the car back at my residence.