As mentioned a few posts back, I have access to a pair of the latest SRM side mount ICs for the B5 S4 along with the White Dog Racing side mount intercooler option for the B5 S4.
Yesterday I took the opportunity to measure the Silly Rabbit Motorsport IC on the flowbench.  Before taking similar flow measurements on the White Dog Racing side mount ICs I took some dimension measurements of the two products to see how they compare.
The table below summarizes how the specs match up:
Deciding upon a standard arrangement to test these two intercoolers with was not entirely straight forward.  Each is supplied with a hose kit that differs substantially from the other.  The SRM ICs are delivered with a set of silicone hoses and the WDR ICs have a set of metal inlet pipes along with silicone hoses.  The silicone hoses between the two vendors differ in shape and length.
Because I had already measured the SRM intercoolers I chose to utilize the SRM hoses with the WDR intercoolers.  As the goal was to determine how the intercoolers compared, keeping a standard hose arrangement seemed to be the best way to measure on a level playing field.
The two configurations I chose for comparison were first with the core having no inlet pipe and the SRM hump hose connecting the core to the flow bench.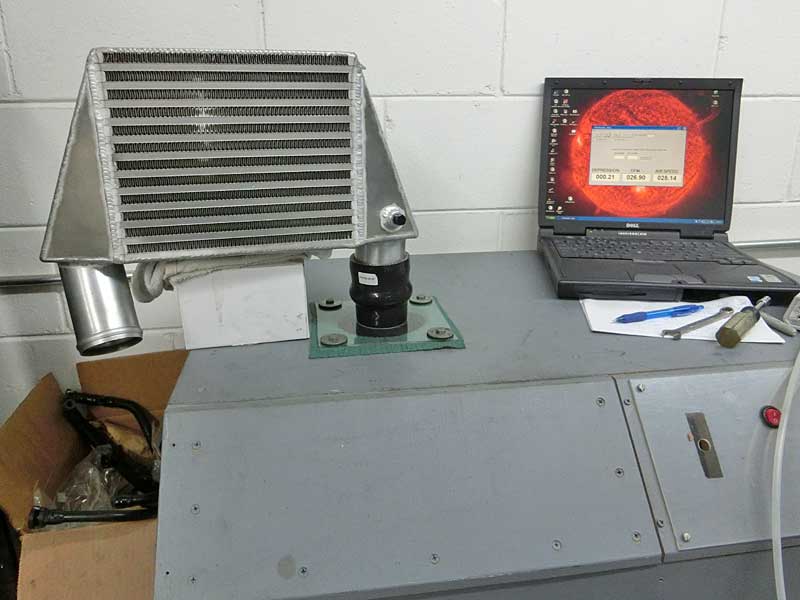 Then the second setup was with the same silicone hose on the outlet, with the addition of inlet piping.  The inlet piping consists of the hose that joins the hard pipe with the turbocharger compressor housing outlet, the hardpipe, and the SRM silicone hose.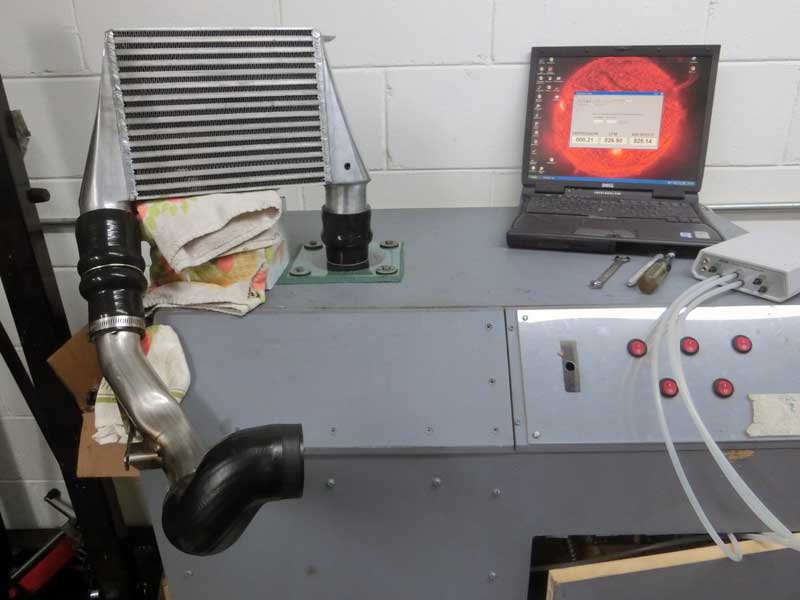 All tests were done on the driver side intercooler and inlet piping.
Under these standard arrangements the following results were measured:
The White Dog Racing intercooler produced slightly greater airflow in each test case.  The gains in each are approximately 4% over the SRM intercooler.
Conclusion:
As mentioned when I first saw the SRM IC with cast end tank, I liked the way the tank had smoother edges than the previous end tanks, but the reduced cross section of the inlet and outlet piping was concerning.  It cannot be determined from these tests what design differences led to the outcome, but a reduced cross section into and out of the intercooler versus the competitor is not going to help.
Airflow is an important aspect of intercooler performance, but the device is called a 'heat exchanger' for a reason – in the future I plan to assess how well the WDR intercooler cools.