The latest component to get wrapped is the upper half of the turbo inlet hard pipe, this is the section that connects to the Y-pipe coupler hose.  I wrapped this section in the DEI Reflect-A-Gold tape.
At this stage most everything from the inlet snorkel to the turbocharger compressor inlet is now wrapped in some way or another.  The part that isn't wrapped is the airbox snorkel, and I'll probably do something with it next.
I went and drove my usual route recording the intake temperatures.  Rather than post up the composite chart, because it is getting very busy, I'm going to post the temperature deltas of the last two and first two recordings that I made.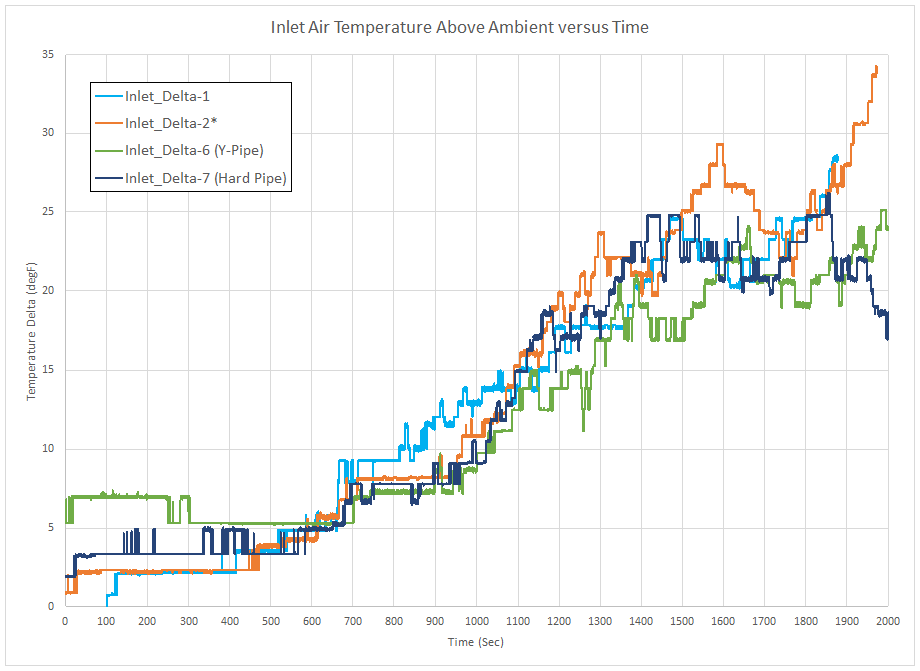 The morning drive has two fewer data series than the afternoon drive, only going up to 7.  Drive 1 is in the normal configuration that I had prior to doing any of the wrapping.  The 2 series is the same but with the Darintake holes covered.  Series 6 and 7 are with most of the wrapping in place, through to the Y-pipe in 6 and the hard pipe in 7.
The afternoon drive data with similar data series is shown below.
These results show very little difference between the 'untreated' inlet piping and the 'treated' pipes with all of the wrapping in place.