Keeping with the recent election activity, and calling the winners and losers based upon early results, I'm going to weigh in on the Turbo Concepts Stage 1 turbo versus the BorgWarner K04.  In terms of low end boost response the BW K04 has hung on against another challenger and remains the response champion of the K03 alternatives I have evaluated.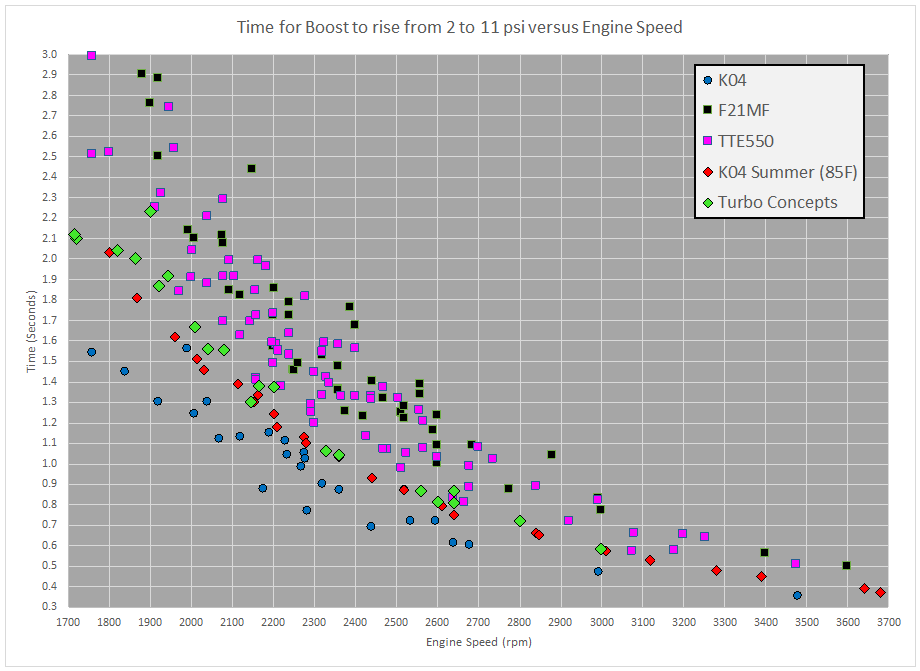 With a recent drop in temperatures, and some refinement to the ECU tune, I've logged some additional data and added it to the chart shown above.  With temperature in the mid forties the Turbo Concepts Stage 1 turbo is comparable to the BW K04 in temperatures in the mid eighties.  This is shown by comparing the green diamonds and red diamonds.
The BW K04's in cooler temperatures, more like what the Turbo Concepts have been evaluated under thus far, clearly is more responsive, especially at lower engine speeds.
The Turbo Concepts turbo is shaping up to be more responsive than the other K04-hybrids that I've recorded.