Prior to installing a turbocharger on my S4 I make an effort to flow test the turbine side to see how it compares with the other turbochargers that I have tested.
For this test I run a 100 CFM calibration plate since it is the closest to where these turbo products fall out, generally around 45-55 CFM at 28″ of H2O.
After performing the bench calibration I place the turbocharger onto an adapter for transitioning to the flowbench.  The compressor wheel is fixed in place, I hold it still with a finger, and then I slowly run the flow bench up to 28″ recording several data points along the way.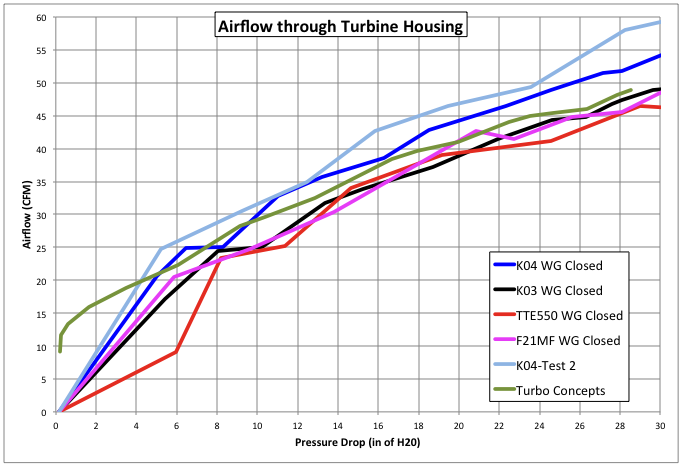 The chart above is a consolidation of the various turbochargers that I have tested thus far.  Of note, the BorgWarner RS4 K04 has been the highest flowing turbocharger that I have tested.
The Turbo Concepts Stage 1 performed similar to the FrankenTurbo and Turbo Engineers products, as well as BorgWarner K03's, still below where the K04's placed.
While this is a test that I don't put a lot of stock in to give insight into how the product will perform on the car, it is notable that the exhaust backpressure measured on the vehicle has been lowest with the BW K04's, supporting the flow bench measurement.