Recent discussion of K04 vs larger (i.e. 605) turbochargers prompted me to pull up some data I've logged, 2-11 time for several turbochargers, and dyno plots from a number of cars with these turbo's.
The 605 2-11 time data is from my S4, which utilized the 605.1 turbochargers, on stock S4 heads.  It spanned a number of months, and thus encompassed temperatures ranging from a low of 33 degF to a high of about 95 degF.  The spread in the 605 data is indicative of the affect that ambient temperatures had on these turbochargers. There is a similar spread with other turbochargers, but in the low airflow (engine speed) regime the 605's appear to be more sensitive than the smaller turbochargers.
It is apparent that all three turbochargers generate boost pressure more rapidly as the engine speed (airflow) increases.
Another aspect of relative performance that I looked at was Torque Drop Off.  One of the claimed benefits of larger turbochargers is that the torque does not "fall off" like the smaller K04 turbo's.  To assess how much less drop off there is, if any, from the larger turbocharger, I reviewed dyno charts from a number of S4's equipped with TiAL 605 turbochargers and BorgWarner K04 turbochargers.
For this comparison I noted the peak torque reading and the torque value at 6500 rpm.  The difference was then calculated.  The result is a percentage change expressed as a negative value, which I made a positive number for ease of conversion into a boxplot chart.
The summary statistics are contained in the table below:
When put into a boxplot the results are: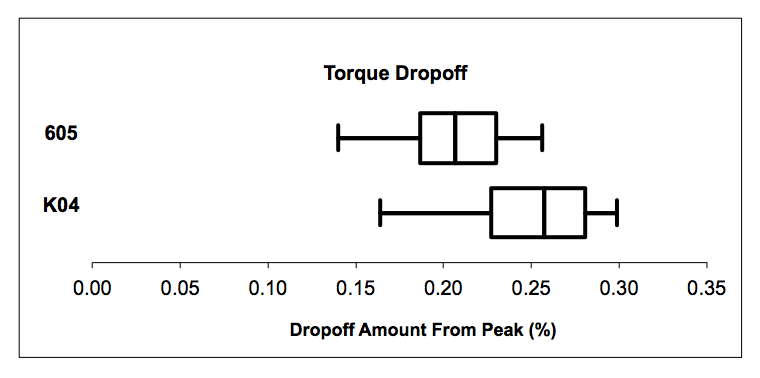 The chart confirms that the larger 605 turbochargers do not suffer as much torque loss from peak as the engine speed increases to 6500 rpm.
The median torque loss for the 605's is approximately 21% while the torque loss for the K04's is approximately 26%.
I suspect the difference is not too substantial due to the source of the torque loss.  While the larger turbocharger is able to supply more airflow at higher engine speed, I believe the drop in engine volumetric efficiency as engine speed increases is causing the torque dropoff.