While in the process of putting a replacement rain tray on the driver's side I encountered more shake your head silliness with this Nogaro.  The driver's side wiper arm was not budging when I tried to wiggle it off.  This didn't come as a surprise since when I was loosening the nut that holds it in place I observed that it was torqued down excessively for a wiper arm.
At the same time I saw that a prior owner had managed to cut the electrical connections as well as fluid line to the washer nozzles.  C'mon, really?
The solution for the wiper arm was to raise the hood far enough so that I could get a gear puller on the arm and break it free.
Moving rearward I took the driver's side rear tire off to put a smaller tire in place (from an 18″ to a 17″ wheel) and realized, holy hell, there's no rear stabilizer bar.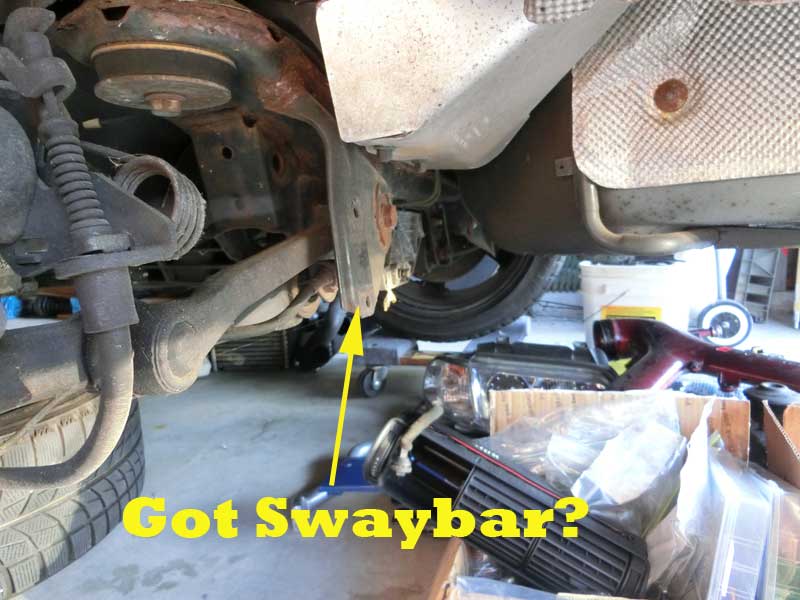 I guess one of the previous owners liked body roll.  At the moment the car does not have a front or rear swaybar.  The situation is not dire, the car came with an upgraded Stabila (Black Forest Industries) front swaybar in the trunk, and I've got the 034Motorsport rear swaybar in my basement that's been sitting in it's box for a while, so I do have options to solve this issue quickly if I want to.