As I begin to assess this Nogaro S4 there are a number of positive aspects of the car.  First, and foremost, is the efforts to build it into a Stage 3 car have resulted in quite a few upgrade modifications having been performed.  Thus far I am aware of the following components having been replaced.
Part (Cost)
[No Name] Turbochargers ($600?)
Clutchmasters FX400 6 puck clutch ($800)
Fidanza lightweight flywheel ($420)
Bosch EV14 550 fuel injectors ($250)
K&N Cone Intake ($187)
Walbro 450 Fuel Pump ($157)
H&R Coilovers ($950)
Stabila Front Sway Bar ($229)
Borla 3″ Single Exhaust ($758)
034 front billet aluminum subframe bushings ($150)
Audi R8 2.0 coilpack conversion ($479)
Vagautowerks coilpack adapter plates (?)
Custom instrument cluster ($80)
Depo clear code headlights with 6k HIDs ($700)
XS Power Bipipes ($140)
XS Power Diverter Valves ($110)
XS power k04 turbo inlets ($170)
Autobahn88 Silicone "Lobster Claw" (?)
Raxles Axles ($300)
CTS Turbo silicone accordion hose ($70)
RS4 Engine Mounts ($280)
OZ X-Line POWER 18″ Wheels ($1197)
Bridgestone Blizzak LM-60 Winter Tires ($1296)
EPL 85mm MAF ($250)
Audi R8 Oil Cap ($45)
Billet aluminum S4 shift knob ($65)
Alcantara shift boot ($50)
Autometer Boost/Vacuum Gauge ($75)
Podi Steering Column Gauge Pod ($40)
RS4 Replica Grill ($100)
ECS Tuning Short Shifter ($190)
Other Maintenance
Timing Belt, Serpentine Belt, Tensionser
Valve Cover Gaskets
G12 Coolant Flush
Pentosin PS Flush
Starter
Battery
I'd like to positively determine if the car has BorgWarner K04's so I am in the process of pulling out the engine and transmission.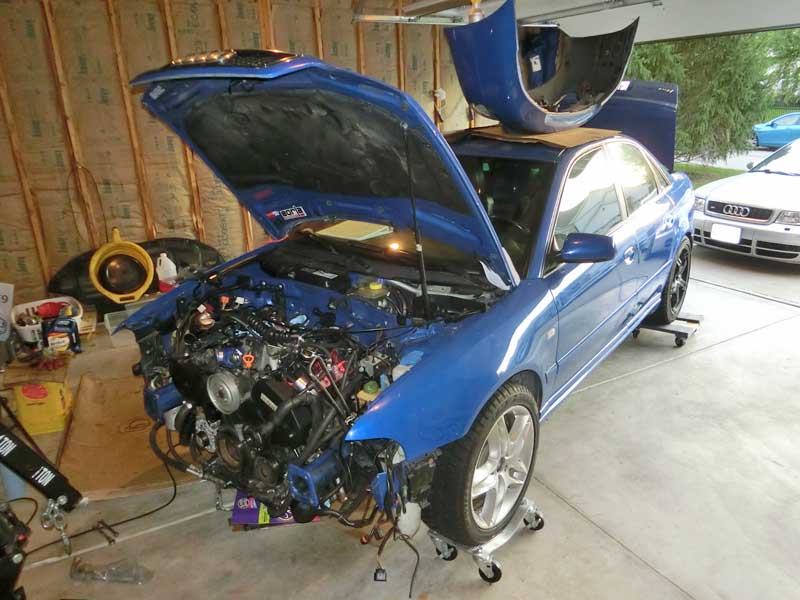 I'm almost there, I have a message into the prior owner to find out how the shift knob is removed!  Once I get that off I'll be able to drop the shifter and be ready to attach the engine hoist.
The Odd:
Some peculiar things I've come across while preparing to remove the engine.  Lots of different bolts being used.  Lots of vacuum lines disconnected.   Wood screws being used to hold the bumper in place, yes that's right, wood screws!
The driver's side screw was easy to undo, the passenger side was a different matter.  The screw head was behind a plastic part, completely inaccessible.  I had to use a pair of pliers to back the screw out from the pointy end.  Bizarre.
Some previous owner chose to go with a single piece exhaust, having a Borla exhaust welded onto the mid pipes.
Really?  Because taking this thing off as a single piece is odd, and I can imagine putting it back on will be fun.  I'm thinking of taking a sawz-all to the pipe and finding a band clamp to hold the two pieces together.