EuroCustoms is not a name I am familiar with, but it turns out that they offer tunes for the B5 S4, both stock K03's and the BorgWarner K04's.  I thought I'd take a look at how their $600 Stage 2 tune compared with the free Nefmoto stage 2 tune and also the NVR Stage 2++ which can also be obtained freely.
Here's what EuroCustoms has to say about their tune: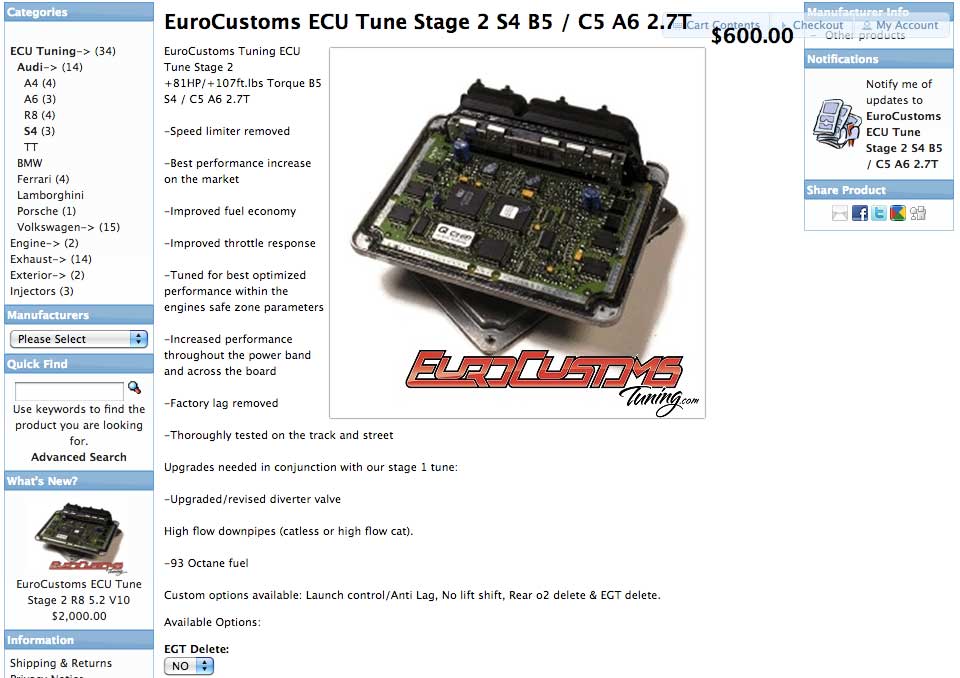 Speed Limiter Removed: This same feature is available with the free tunes.
Best performance increase on the market: Without making a side-by-side comparison with all other tune options on the market this is a baseless claim and it is highly doubtful that EuroCustoms undertook the effort to test every other Stage 2 K03 tune available for purchase.
Improved fuel economy: No attempt to quantify the gains, unlikely to be true.
Improved throttle response: It is unclear what this is supposed to translate into for the operator.
Tuned for best optimized performance within the engines safe zone parameters: Sounds nice but is meaningless.
Increased performance throughout the power band and across the board: This has been the case for every decent K03 tune that I have seen.  When you increase boost pressure from stock levels increased performance follows.
Factory lag removed: This makes it sound as though turbo lag is like the speed limiter and with a simple change in values lag is gone.  Nothing has been quantified.
Thoroughly tested on the track and street: Thoroughly tested and not one bit of evidence to support the testing process?  C'mon.
In summary, many claims and nothing to back even one of them up.
Looking at some real data from the Nefmoto and NVR tunes:
With the free tunes we see respectively an increase of 45 whp, and 60 whp for the Nef and NVR tunes.  This is versus the unproven 81 hp increase claimed by EuroCustoms, which may be crank and not at the wheels.
In terms of torque increase Nef adds about 105 lb-ft while NVR pushes up to 125 lb-ft more torque at the wheels.  EuroCustoms claims an extra 107 lb-ft.  Again it is unknown is EuroCustoms is claiming the increase to be at the wheels or crank.  In either case the results are no better than the free options.
Notably, aside from the numeric values in the claims, the exact series of claims are made for the Stage 1 K03 tune, and in fact, the K04 tune that is also offered is described word for word by the very same superlatives.  Remarkable consistency or Copy & Paste of ad copy from one web page to the next.
Bottom Line:  For $600 you get no proof of any performance improvement over two K03 tunes that can be obtained freely.