The chart below compares the aggregate wheel torque from dyno charts of (4) BW RS4 K04 equipped B5 S4's against that of (6) TiAL 770 equipped B5 S4's.
Note: Any time that data is recorded on different vehicles it's expected that the results will be different between the vehicles.  To attempt to mitigate this variability I prefer to use averaged data, when available, since I believe it is more representative of what an individual owner may achieve if they were to equip their own car with similar components as the vehicles being measured.
The intent of the chart is to show how one aspect of the vehicle performance compares between cars equipped with significantly different turbocharger hardware.
Note:  More than just turbocharger hardware differs between the vehicles, but the large majority of performance difference can be attributed to the turbocharger being used.
The specific attribute this chart addresses is how peaky the engine torque curve is, measured at the wheels on a dyno.  That is, how rapidly torque builds and how rapidly it then drops off.  Between these two turbochargers the 770 is the larger, this normally results in a torque curve that is shifted to the right, and is greater, than a vehicle equipped with a smaller turbocharger, such as the BorgWarner K04.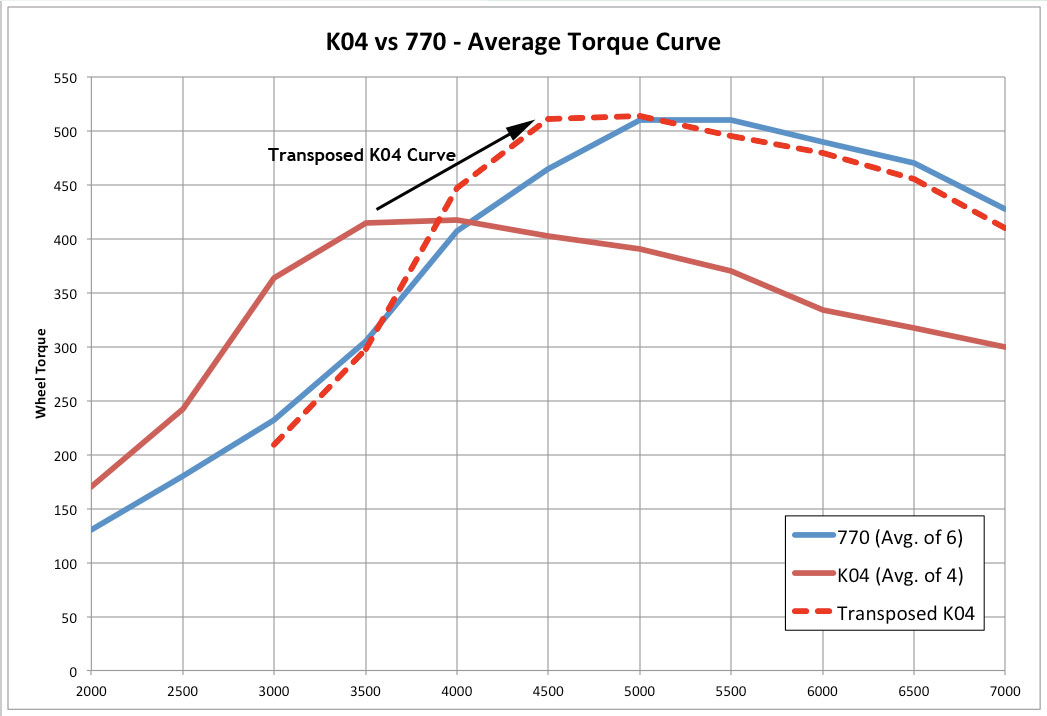 That trend holds for these two turbochargers whose baseline values are shown with solid lines.
To get an idea of how peaky one turbo is versus the other I have shifted the BW K04 torque curve to the right, and up, transposing the values so that the shape of the curve is retained but the location on the chart is different.
As shown by the dashed red line and solid blue line, the torque curves for the BW K04 and TiAL 770 are quite similar.  Whether one chooses to define this shape as 'peaky' or not is something I won't attempt to answer.
It's important to emphasize that the two turbochargers would feel quite different from the driver's seat on account of the location of the curves on the chart.