The longer I wait the more interesting things become.
Another option that I've recently been made aware of is a product from The Turbo Engineers, an outfit in Germany.  While they have a large product line the turbocharger that caught my attention was the TTE 550 (image below).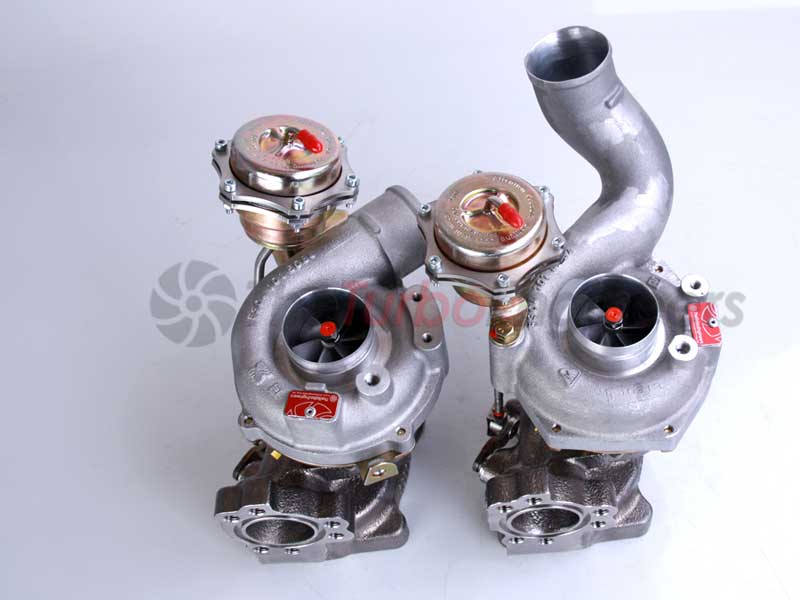 This turbocharger pair is based off of the BorgWarner K04 with modified RS6 internals.  It's a pairing of components that I have heard good things about and one that I think provides a great upgrade path to someone with K04's that would like to max out their stock motor, or even push a little closer to the 500 whp range.
For less than the cost of new turbochargers TTE modifies the used BW K04's, milling the compressor housing so that RS6 internals can fit into the K04 housings.  This means the turbo's go right back where they came from in the engine compartment without need to purchase RS6 turbine housing compatible DP's.
TTE offers a number of additional modifications for this turbo such as:
Ported exhaust entry
Gasket matched exhaust flange
Ported boost outlet
Ported compressor inlet
Compressor cover painted in black Hi-Temp coating
Actuator painted red in Hi-Temp coating
Lightened Turbine wheels
I'd like to find some additional performance results from users of this turbo, but the data supplied from the manufacturer looks promising.
My list of turbocharger candidates now looks like:
BorgWarner K04
FrankenTurbo F21
ProjectB5 RS6-X
SRM Billet K04
TTE 550