Having decided that a twin turbocharger setup would be the path that I followed the next question I began to consider was the size of turbocharger to install.
At one end of the spectrum were the Borg Warner K03 turbochargers that were already installed on the car.  The K03's had a couple of things going for them, install would be a breeze, requiring absolutely zero work and the costs would be the lowest of any option.  Doing something along the lines of a Stage 2+ setup or even a Stage 2+/E85 tune would be straight forward.  I already have on hand 72# Bosch EV14 fuel injectors, an EPL 85mm MAF housing (likely unnecessary), and an installed RS4 fuel pump.  Supporting the K03's with a bunch of go-fast bits that were sufficient for substantially larger turbochargers might be a fun investigation.  While I might try this, ultimately I'll be putting something else on the car – K03's are out.
The opposite end of the spectrum is occupied by the TiAL R770 turbochargers.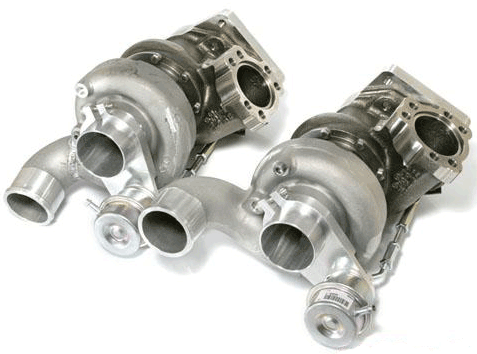 I've decided that there's no point in looking for anything larger than the TiAL R770's and anything remotely close to this size is probably a distant second given how much attention was paid to matching this turbocharger pair with the 2.7T motor.
In the R770's favor was the fact that the most horsepower I was going to derive from my car would be via this pair of turbochargers.  Even if I chose to operate at less than what these turbochargers were capable of the experience of driving with them would likely be positive.
One downside to acquiring the R770's at this stage would be the need to obtain a new set of downpipes with the split design for the wastegate as shown in this image on the 034 Motorsports website.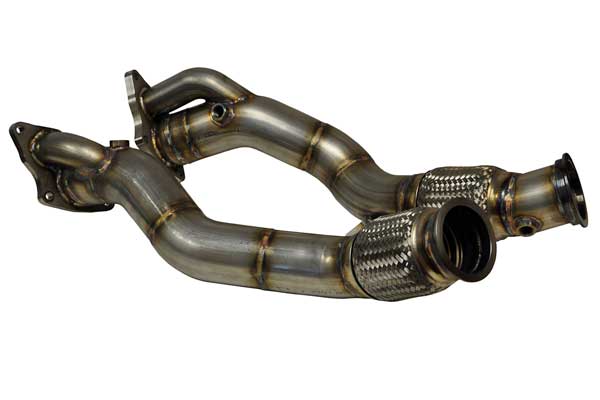 Another reason to consider passing on the R770's was the cost, about double that of some of the turbochargers I was considering.  I decided I'll hold off on the R770's for a later date.
The middle ground was congested with several options:
Borg-Warner K03
Borg-Warner K04
Project B5: RS4-X
FrankenTurbo F4H-BT
FrankenTurbo F21
Borg-Warner RS6-K04
Project B5: RS6-X
JHM RS6-R
LOBA Motorsport LO530P
Silly Rabbit Motorsport RS6 K24
TiAL Sport s605.2
Garrett GT28RS
TiAL R770
Single Turbo Kit
Whew! Choosing from amongst all of those options was going to take some thought.
Next: Turbo Selection Easy Cuts