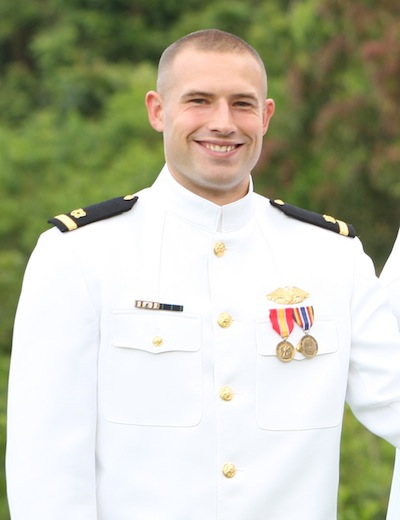 Release Date: 1 April 2009
By Naval Facilities Engineering Command Public Affairs
MAZAR-E-SHARIF, Afghanistan (NNS) — Lieutenant (j.g.) Francis L. Toner IV, Naval Facilities Engineering Command (NAVFAC) Hawaii, died March 27, 2009, when an Afghan National Army (ANA) soldier opened fire on personnel assigned to Combined Security Transition Command – Afghanistan (CSTC-A) at Camp Shaheen, in Mazar-E-Sharif, Afghanistan.
Another Navy officer also died, Lieutenant Florence B. Choe, Medical Service Corps, and a third was wounded. The ANA soldier killed himself immediately after the incident.
At the time of the incident, Toner was halfway through a year long Individual Augmentation (IA) assignment at Camp Shaheen with the Afghan Regional Security Integration Command (ARSIC) North. He began training for the IA assignment in June 2008 and was expected to return October 2009.
"Toner was an exceptional young man and naval officer. He made a great difference while in Afghanistan just as he did while serving in Hawaii. Those he touched during his life will never forget his smile, sense of humor, competitive spirit, outstanding work ethic and love of country," said Captain Bret J. Muilenburg, NAVFAC Hawaii commanding officer.
Toner, 26, was born in Panorama City, California, and later moved to Narragansett, Rhode Island. He earned his Bachelor's of Science Degree in Marine Engineering and Shipyard Management at the United States Merchant Marine Academy in Kings Point, New York. Upon graduation, he was directly commissioned into the United States Navy.
After gaining experience on five vessels with the Merchant Marines, Toner attended, and graduated from, the Civil Engineer Corps Officers School, Class 236, in November 2006. Soon after he reported to his first duty assignment at NAVFAC Hawaii, he became the Officer in Charge of Self Help (a Seabees unit). His last assignment at the command prior to deploying to Afghanistan was as assistant Public Works officer for West Oahu.
Toner is survived by his wife, Brooke, parents and three siblings.
CSTC-A held a memorial service on Sunday morning, March 29, 2009, to honor Toner and his fallen colleague. NAVFAC Hawaii is planning a Pearl Harbor service later this week.
"Please keep Brooke and the family in your thoughts and prayers," said NAVFAC Commander and Chief of Civil Engineers Rear Admiral Greg Shear.